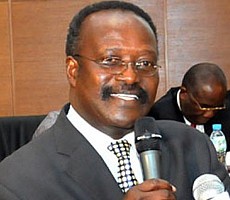 Thu, 10 May 2012 Source: Daily Guide
Fishermen at Chorkor in the Greater Accra Region are angry with the Minister for Food and Agriculture, Kwesi Ahwoi, for accusing them of insincerity and opportunism in their dealings with politicians.
They have therefore warned the minister to desist from making such derogatory remarks against them or face their wrath.

Mr. Ahwoi was said to have told fishermen in Tema last week that fisher folks at Chorkor were insincere and opportunists, adding that "because of your two-facedness, smart politicians would continue to instigate you to hit the streets to demonstrate against the government".

However, Nii Abiala, Chorkor Manstrulu Wulatse, at a press conference in Accra, yesterday noted that they took exception to such defamatory statements.

He said they did not deserve to be insulted simply because "we dare to ask for what other Ghanaians also request".

Nii Abiala said Chorkor fishermen, for some years now, had been living in poverty because they had pledged to abide by the Ministry's law banning fishermen from fishing with light.
He said while they were abiding by the laws, their colleagues in other fishing communities continued to use light to fish.

This, he said, had brought them untold hardships because they did not get fish to catch when they went fishing.

Nii Abiala said the ban on fishing with light was biased since their colleagues in Tema and elsewhere went unpunished despite going against the law.

He said even though light-fishing and pair-trawling had been banned, the Ministry of Agriculture had turned a blind eye and continued to allow a few people with connections at the top to abuse the law.

Nii Abiala said, "On hindsight Chorkor fishermen and other fishermen have been used and dumped but they are now wide awake and have decided to shake themselves from the slumber. Gas are now wide awake and will not be fooled a second time."
He stated, "If the Minister and his surrogates think fishermen are still educationally deaf and dumb and seen as robots, society should realize that we now have our sons and daughters also graduating from the same universities, so the days of playing second fiddle should be over".

Nii Abiala said, "For the past two years, it has been common knowledge that fishermen have been cash-strapped and gone hungry. Most of us have become beggars".

He promised that the fishermen at Chorkor would campaign and vote against any political party or politician who supported pair-trawling or light fishing.

Nii Biala said, "No matter what happens we will continue to fight fishing with light on our seas until it becomes a thing of the past".
Source: Daily Guide