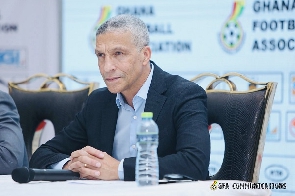 Sports broadcaster, Dan Kwaku Yeboah has disclosed that it is unfortunate that some members of the Ghana Football Association were not in favor of the appointment Chris Hughton as head coach of the Black Stars.
According to him, the former Newcastle coach has shown his competence in his first matches in charge but surprisingly there are people within the GFA who oppose him.

He noted with concern that the GFA deliberately gave Chris Hughton a short contract because they know he is incorruptible.

"The coach is on top of his job but it hurts that the GFA knows they can't pollute him so they didn't give him a longer duration in his contract," Dan Kwaku Yeboah stated on Youtube channel.

He added that Hughton's contract is one of the shortest the GFA has given to any Black Stars coach in recent times.

"All the others who came in had a minimum of two-years contract its only this coach that has been given a one-year seven months contract," he stated.
Reacting to Chris Hughton's style of coaching, Dan Kwaku Yeboah stated that the coach demonstrated that he had the ability to win matches from the bench.

"Apart from the courage to bench Dede, when the going got tough he made decisions that had impact. Semenyo came from the bench to score and this time Osman Bukari has also come from the bench to score. In all these, you can see that the players respect him so much.

Chris Hughton led the Black Stars to beat Angola 1-0 at Baba Yara and later went on to draw 1-1 in Luanda.

JNA/KPE