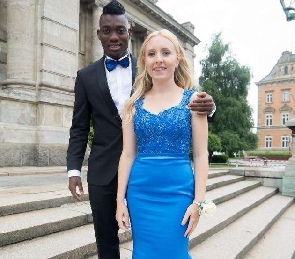 Marie-Claire Rupio, the wife of former Black Stars winger Christian Atsu, has composed a song to honour her late husband.
Rupio, who is a singer and a dancer posted a snippet of the song on her Instagram as she emotionally sang it in memory of Atsu.

In a caption for the reel, she stated that she is not ready to say goodbye with love and teary emojis.

"Not ready to say goodbye 'cause this one means forever - for his family and friends - we are one.????????"

Atsu passed away in February 2023 after an earthquake in Turkey.

Christian Atsu and Marie-Claire had been together as husband and wife since 2012, giving birth to two boys and a girl.
Claire attended the funeral rite in Ghana in March. She broke down in tears and could not finish reading her tribute.

Watch the video below>




EE/KPE