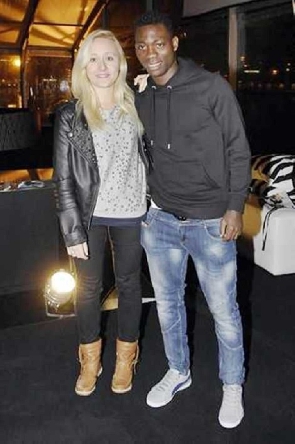 Marie-Claire Rupio, the wife of Christian Atsu has shared the last time she heard from her husband who has been missing since a 7.8 magnitude earthquake hit Turkey.
According to her, Atsu who scored his first goal for Turkish-based Hatayspor on Sunday, February 5, 2023, called home the day before the match and had a conversation with their children.

"He spoke to the children last time on Saturday morning, that was the last time that I heard from him," she told the BBC in her first public interview since the disappearance of her husband.

The wife of the footballer disclosed that she found out about her husband being trapped under earthquake rubble through the news.

"I had a lot of missed calls on my phone from his sister and she just told me, and then I read the news," she said.

With earlier reports of her husband being rescued from the rubble turning out to be false, Marie-Claire Rupio is hopeful that he will be found alive.
She has therefore appealed to Christian Atsu's club, the Turkish and British governments to step up efforts in rescuing those trapped under the rubble.

"All I can say is that for me I know the rescuers are trying their best working day and night to rescue everybody. I just feel for everybody who is like me and my children being in the unknown not knowing whether their family (relative) is alive or not. I will just appeal to the Hatayspor Club and the Turkish authorities and the British government to send the equipment to get the people that are still trapped under the rubble out, especially my partner and the father of my children," she said.

Background

A powerful earthquake struck south-eastern Turkey, near the Syrian border, killing more than 22,000 people (as at February 10) as they slept and trapping many others in the early hours of Monday.

The US Geological Survey said the 7.8 magnitude tremor struck at 04:17 local time (01:17 GMT) at a depth of 17.9km (11 miles) near the city of Gaziantep.
Hours later, a second quake, which had a magnitude of 7.5, hit the Elbistan district of Kahramanmaras province.

In September 2022, the 31-year-old Black Stars winger penned a one-year deal to join the Turkish side following a spell in Saudi Arabia.

It is reported that over 22,000 lives have been claimed by the earthquake in both Syria and Turkey.



GA/SARA