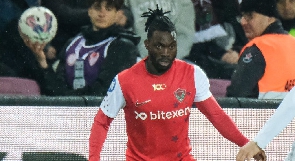 Hatayspor media officer, Koray Yildiz, has paid tribute to the late Ghanaian winger, Christian Atsu, describing him as a humble and lovely person.
Yildiz expressed his regret for not capturing the best photograph of Atsu's final goal against Kasimpasa before tragedy struck.

Atsu, who had been sidelined due to injury for several months, made a remarkable comeback during a Sunday night match, scoring a late winner for Hatayspor. Tragically, the following morning, he lost his life in a devastating earthquake.

Yildiz, who also serves as the club's photographer, explained that the intense emotions of the game overwhelmed him to the point where he slipped and failed to capture the momentous shot.
After the match, Yildiz approached Atsu and apologized for not capturing the best image. In response, Atsu simply smiled and said, "No problem." Yildiz fondly remembered Atsu as a delightful and down-to-earth individual, emphasizing his humble nature.

"After the game, I said sorry to Christian for not getting the best shot, and he just smiled at me and said: 'No problem'. He was a lovely, humble guy."