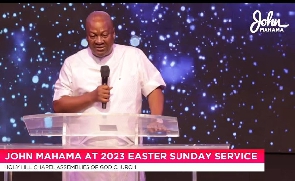 Former President John Dramani Mahama has challenged Christian politicians to adopt Christ-like features into their political life.
Mr. Mahama made the call when he joined the Holy Hill Assemblies of God Church at Circle on Easter Sunday to worship.

He said no matter the temptations that may come, Christian politicians must be like Christ and allow their works to represent what Christ stood for.
"God has blessed me, he has guided my steps, any possible office, the politics of this office I have occupied, I have been a deputy minister, I have been a minister, I have been a member of parliament for three terms, I have been a vice president and ultimately I have been the president of the Republic of Ghana.

"Wherever you go, you get soldiers lined, welcome parades, you inspect guards of honour, the band is playing and often what it does is, it gives you a sense of immortality, if you are used to the trappings of office, you will think that you will never step out of the office and so what I say to Christian politicians is we take christlike features into the work we do as politicians."