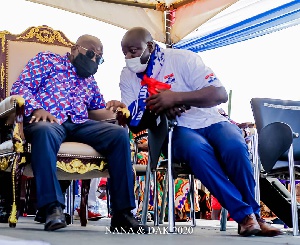 Member of Parliament for Anyaa-Sowutuom has come under attack for recent views on the rebuilding of the La General Hospital which was demolished by government years back but has yet to be rebuilt.
Dickson Adomako Kissi, while making a presentation on the floor of Parliament (November 14) last week said starting work on the project as contained in the 2024 budget will be a Christmas gift to the people of La.

"No matter what the issues were, it has come back to bear that the loan agreement is being revisited and construction will take off and I think that this is the best Christmas gift to La. This will be our Christmas gift to La.

"In the sense that this great hospital which has touched many lives is going to be reborn and we all need to be happy," he submitted stressing that the project is supposed to be built within a space of a year-and-half.

The said project had become a blot of the government's failure to follow through with the provision of a critical infrastructure yet demolishing existing ones that were serving communities.

People reacting to a video of the MP's submission are not pleased by his use of the word 'gift' stressing that this was an existing infrastructure that was pulled down and so rebuilding it is only a matter of right and in no way a gift.


La General Hospital

No matter what the issues were, it has come back to bare that construction will take off. This is the best Christmas gift to La - Dr. Dickson Adomako-Kissi#CitiNewsroom pic.twitter.com/8MxROP9ONN

— CITI FM 97.3 (@Citi973) November 14, 2023
Below are some reactions:
Mr. YAS (@itsmryas): "Christmas gift? Such impudence!"
Mr. M.B.A ???? (@NanaKwame_MBA): "You see how they talk? It gives you a clear idea of the selfish nature and irresponsible decision making bunch of individuals that you've chosen to lead you. I will always say this: They think we are in some sort of orphanage home and they are in the palace and it's true."
Matthew (@NhaWinpa): "Nonsense. As if they're doing the people of La a favor."
Leeno (@_leeno15): "Ghana leaders.that Parliament House ankasa the sensible people no go reach 6"
Community Two President (@johnny_session): "Shameless people."

Riches (@samuelkwakye58): "There's a reason why these people go around with police security because if not, as soon he leaves the Parliament then we corner am for somewhere then e tell we the same thing for there."

Mystical (@Mysticalgee2): "Useless people any project for Ghana this Maafia's must go for loan why?"

k'sante (@kasantej): "This is the first time I'm hearing my MP speak at parliament and this is what he's saying?"

@Lexwils02: "Is he a medical doctor? So these people listen to themselves when they speak?"

Humble Afrikan (@yawkuulboy): "You all saw how Napo was even staring at him upon hearing that "Christmas gift" ridicule."
Okatakyie Kwabena Ebo (@Shadows91735698): "Until we fully decentralise & each identified assembly accepts responsibility for its funds flow, we will continue to hail policy makers as our "Institution(s)" responsible for the infrastructural development of our country."

The issue of challenges with the loan contracted for the project and transfer of the project to the Agenda 111 had been advanced by the government but roundly rejected by the people of La.

In the 2024 budget, finance minister Ken Ofori-Atta announced that an allocation had been made for the project and that work was due to start this week.

The opposition bench and MP for the area have expressed delight but say they will keep their fingers crossed on the promise.

SARA


Ghana's leading digital news platform, GhanaWeb, in conjunction with the Korle-Bu Teaching Hospital, is embarking on an aggressive campaign which is geared towards ensuring that parliament passes comprehensive legislation to guide organ harvesting, organ donation, and organ transplantation in the country.

Watch the latest episode of Everyday People below: