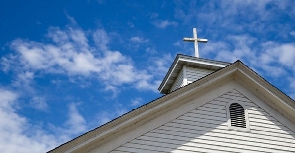 A primary four history textbook has become the center of discussions after it emerged that it had content that in many parts listed disadvantages of religion, specifically of Christianity.
The book, History of Ghana for Basic Schools, Learner's Book 4, was authored by Francis Benjamin Appiah and Henry David Appiah.

The cover page and the contentious section has been making the rounds on social media platforms with people expressing disgust as much as others are seeking to justify some of the controversial points.

Under the section titled: "NEGATIVE EFFECTS OF CHRISTIAN MISSIONARY ACTIVITIES," the authors list seven points ranging from religion being a major cause of conflict globally, that Christianity has led to increase in poverty and that the religion missionaries brought "create a sense of fear or timidity in their adherents."

It also blames religion for the activities of charlatans who parade as men of God, that religious groups discriminate against women and that politicians use religion to cause insecurity while advancing their selfish interests.

"Religion in Ghana does not encourage creativity, invention or critical thinking because its conservative or static nature," it concluded.
NaCCA reacts:

The National Council for Curriculum and Assessment (NaCCA) in reacting to the book has stated that the version cited is not what was approved.

A Deputy Spokesperson for the Ministry of Education, Yaw Opoku Mensah is quoted by Joy News as stating that NaCCA had not approved the particular copy.

He claimed that per the information provided to him by NaCCA, the approved version of the book did not have the section in question, the Joy News report added.

NaCCA is an entity mandated by the Education Regulatory Bodies Act, 2020 (Act 1023) to develop national curriculum and assessment standards for pre-tertiary education institutions other than technical and vocational education and training institutions.