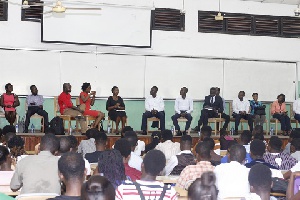 Fri, 20 Oct 2017 Source: Nana Kwame Fordjour
Two alumni of the Department of Philosophy and Classics, Mr Curtis Nettey, an accountant at Genesis Oil and Gas Services, and Mr Shadrack Akrofi-Quarcoo, a former UN worker and Founder/Coach of the Gold Empire Foundation have shared their experiences as former students and how the disciplines of classics and philosophy place them par excellence in their fields of work.
They advised students not to let good grades be their sole motivation for selecting courses, but rather consider the intellectual and life-transforming benefits of reading courses like classics and philosophy. They said that they stuck with classics and philosophy because of the values the disciplines imparted and the critical thinking skills the disciplines developed in them. As a Classics alumnus turned accountant, Mr Nettey said that the ancient Roman values of fides (fidelity), disciplina (discipline), pietas (piety), and veritas (truthfulness) had impacted positively on his work.

The audience turned to Mr Timothy Karikari for answers to how a graduate in Classics could become an accountant. Mr Karikari, a human resource practitioner with over 8 years' experience, said that, with exceptions to specialist fields like medicine, engineering, entry-level positions in most corporate organizations were open to all disciplines: whether one read Classics, Psychology or management didn't matter.

Once a person possessed a good class and the requisite skills, he or she could get employed in any industry. But Mr Karikari, who is also Head of Shared Services at Global Media Alliance, said that among the desirable skills, critical thinking and attitudinal skills were non-negotiable.
"No one becomes an economist or accountant with a first degree, or a lawyer with a Bachelor of Laws," he said. "Graduates will require further training to become professionals, but what will keep them in their jobs and position them well will be their skills and attitude," he concluded.

This he said was why he bemoaned students' scorn for classics and philosophy. He challenged students to take the disciplines of classics and philosophy seriously because "compared to others, they provided the best foundations for developing critical thinking and attitudinal skills".

The event was also attended by graduates, teaching assistants, and lecturers in the department, including the former head of Philosophy and Classics Professor Kofi Ackah, and the patron of the association Mr Michael Okyere Asante. Other lecturers in attendance were Dr Caesar Atuire, Ms Bernice Adamson and Ms Gifty Etornam Kemevor.
Source: Nana Kwame Fordjour