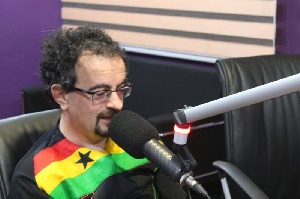 Fri, 19 Aug 2016 Source: Heritage
The British High Commissioner to Ghana, Mr. Jon Benjamin, has called for the total closure of all witch camps in the country.
According to Mr. Benjamin, there is no such thing as a witch in the 21st century; hence, there was no need for the establishment of the camps to accommodate people who are alleged to be witches.

Speaking at the launch of the Ghana Domestic Research Report in Accra, the High Commissioner expressed worry about the treatment some women go through after being labeled witches.

"Personally, I believe in the 21st Century, it's time to say there is no such thing as a witch and to decry the practice of using such a term to dehumanize vulnerable women," he said.

This practice, he explained, is a form of human right abuse and must be kicked against by all and sundry so as to create a safe environment for development.

Mr. Benjamin lauded the effort of the Ministry of Gender, Children and Social Protection for their role in ensuring that the vulnerable are protected in society.

He added that, the United Kingdom (UK) committed to fighting against all forms of human right violations, and pledged his country's support in fighting against gender based violence in Ghana.
He further suggested that strict laws must be implemented and individuals who infringe on the rights of the vulnerable in society, severely punished to serve as deterrent to others.

The high Commissioner urged traditional and religious leaders to actively participate in the fight against human rights abuse, adding that, "they have to play a key part in combating this social menace by stating loudly and publicly that forms of violence are wrong."

For the UK, tackling violence against women and girls are of high priority because it presents a major obstacle of ending gender inequality," he added.

The Ministry has disbanded a number of witch camps, particularly, in the three northern regions as part of efforts to end human right abuses.

However, the Ministry has been asked to close down all witch camps across the country by the end of next year as directed by the Committee on the Elimination of Discrimination against Women.
Source: Heritage