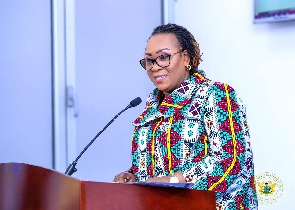 The Minister for Fisheries and Aquaculture Development, Mavis Hawa Koomson, has announced that the government will be providing alternative livelihood training for 8,000 fishers during the closed season.
According to her, the training which will state with 550 fishers is in collaboration with the Ghana Fisheries Recovery Activity and other partners of the minister.

Speaking at a stakeholder engagement to access the 2022 fishing closed season, in Accra, on Friday, April 13, 2023, Hawa Koomson said that the alternative livelihood training is part of efforts to ensure that fishing households are not adversely affected during fishing closed seasons.

"The Ministry and its partners, including the Ghana Fisheries Recovery Activity have launched the alternative livelihood training support for fishers starting with five hundred and fifty (550) fishers in masonry, carpentry, dressmaking, hairdressing, electronics and auto engineering etc in selected Communities along the coast.

"This training would be scaled up to cover 8,000 fishers aged from 18 to 35 years. After the training, trainees would be supported to set up to ensure that they can earn incomes from their trade," she said.

The minister also indicated the government will also provide fishing households with other support, including the provision of food items, as it did in 2022.
"Ministry during the 2022 Closed Season distributed 20,000 bags of rice and 8,333 oil to totally support fishers during the closure. As we have always indicated, the relief items are not sufficient to whole support the fishers during the one (1) month Closed Season.

"We, therefore, encourage fishers to save towards the period. I must also mention that the fishers have been supported with 6,000 wire mesh, 20,000 basins, 1710 chest Freezers and 1150 outboard motors," she said.

She also explained that the closed season is needed to help ensure that there is no depletion or decline of fish stocks in the nation's water bodies.

"The fishery resources have been the economic backbone of the many fishing communities in this country for centuries, especially artisanal fishers and fish processors. It is therefore important that we manage our fisheries sustainably to promote the well-being of these communities.

"The implementation of the Closed Season, is part of the series of strategies to recover fish stock and ensure sustainable management of the fisheries resources. We have all come to accept that, there is the need to continue the Closed Season within the same period of July and August as implemented in 2021 and 2022 since it is the period of the upwelling. Upwelling is the best period for spawning," Hawa Koomson said.
Watch the latest episode of People and Places below:





IB/FNOQ