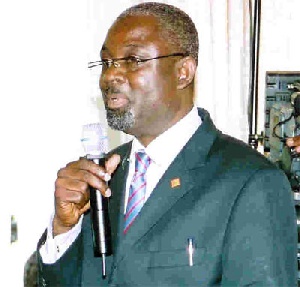 Fri, 18 Aug 2006 Source: jfm
The Seat of government has called for a ceasefire on the recent political war between the two largest parties in Ghana over the cocaine scandal in Ghana.

Press Secretary to President Kufuor told journalists in Accra that President Kufuor wants all to back off and allow the Georgina Wood committee to complete its work.


"We've all had our say and its now time for all of us to back off and let the committee do its work… Ghana is larger than any person or group of persons and we should at all times subsume our interest to the interest of the country", Mr. Awuni said.


The NDC and the NPP have been lashing out at each other after President Kufuor alleged that the NDC and particularly its leading member Rojo Mettle-Nunoo were the ones who brought in cocaine barons into the country.


The NDC have protested the President's comments saying there were irresponsible and libelous. The NPP however maintains the President did well because the NDC was the first to politicize the cocaine scandals.


Civil society groups have also condemned the President's comments saying the cocaine case needs no politicization.

But addressing journalsists today, Mr. Awuni said the President stands by his comments but urges all to stop the discussion now and allow the Georgina Wood Committee to do its work.


The seat of government is not happy that civil society has not criticized NDC's Rojo Mettle Nunoo for his harsh reaction to the president's comments on his involvement in the cocaine saga.


The Presidential Press Secretary Andrews Awuni asked that the same standard be applied to all in dealing with the cocaine issue.


"As for Mr. Rojo Mettle-Nunoo's outbursts and unwarranted personal attack on the President, the least said about it the better. It is however note worthy that to date no member of the civil society has said anything about this attack on the President. The attack certainly represents a certain cultural defiance. Nevertheless, it is a major test of the maturity of democratic governance", he said.


Mr. Awuni said the president wishes to assure all that the government is determined to get to the bottom of the matter since drugs affects everyone irrespective of political affiliation

Source: jfm