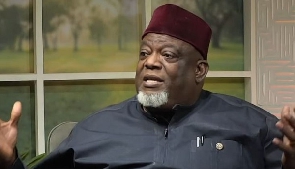 The Director of Business Operations at Dalex Finance, Joe Jackson, has stated that COCOBOD's invitation for holders to voluntarily exchange their short-term cocoa bills for new ones is simply another haircut.
According to him, this is another indication that the government is unable to pay its bills.

He explained the call to exchange as the government's way of spreading maturities that will be due in August over a period of five years due to its inability to honour them on the due dates.

"Just like we did with domestic bonds, the government and COCOBOD have come up to say, we can't pay our bills. Remember that the last Cocoa Bill was issued in February 2023 at a rate of 32.22 percent per annum and this was supposed to have been paid in August, but it will not be paid and any interest and the principal will be rolled up into one figure," he was quoted by citinewsroom.com.

The payment of both principal and interest will be done starting in 2024 through to 2028.

"Let's say you have Cocoa Bills worth GH¢68 and interest worth about GH¢32 which adds up to GH¢100, 5 percent of that will be paid in 2024, 20 percent in 2025, 25 percent in 2026, 25 percent in 2027, and 25 percent in 2028 which means that the monies that you should have received this year plus interest, will be spread over the five years starting in 2024. This is another haircut," he elaborated.

Joe Jackson however blamed the Ghana COCOBOD for the default of its bills.
"This is truly a COCOBOD problem. COCOBOD has badly managed its affairs, and it hasn't even published its accounts since 2020, and it is the one that took the money supposedly to purchase cocoa but unfortunately doing other things that are not in its original remit," he lamented.

COCOBOD's operations have come under several criticisms even as many have lamented its large staff size.

The company on July 14, 2023, extended an invitation to holders of its short-term debt securities (cocoa bills) to exchange that for longer-term debt securities.

"COCOBOD is offering Eligible Holders accrued and unpaid interest ("Accrued Interest Payable") on their Eligible Bills validly tendered and accepted by the COCOBOD, calculated from and including the last interest payment date up to, but excluding, the Settlement Date, which amount will be paid to such Eligible Holders in the form of capitalized interest (rounded down to the nearest GHS1.00) added to the principal amount of the New Bonds and distributed across the New Bonds in the same proportion as the Exchange Consideration Ratios (as defined)," parts of the release read.

SSD/NOQ

Watch the latest edition of BizTech and Biz Headlines below: