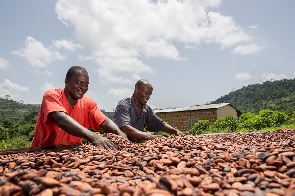 Cocoa farmers are mostly the source of cocoa products for companies within its sector in the country. From chocolate production to cocoa drinks, among others.
But the efforts of these farmers are not really appreciated as the amount of money they make do not tally with the work they do.

In a recent report released by Chocolate Scorecard, many cocoa farmers in the country are underpaid hence, leaving them to wallow in poverty.

The report highlighted that it was about time cocoa farmers were paid more for their products to enjoy life to the brim.

"Farmers need to be paid more for their cocoa to ensure a sustainable life. The account of poverty in cocoa-growing communities, especially in West Africa has been articulated extensively. Its connection to child labour, forced labour and human trafficking as well as the deforestation of national forests is indisputable," part of the report read.

"A recent report by Oxfam claims that the net income of farmers decreased by an estimated 16.38% between the 2019/20 and 2021/22 harvesting season," it added.

It further said "when the price of cocoa increases everything else a farmer purchase increases in price, leaving worse off in reality."
These, however, do not affect chocolate companies and rather make profit when they sell.

Meanwhile, the global chocolate market was valued at a revenue of US$131.9 million in 2021. The sector was also projected to grow at 4.50% annually.

The fourth edition of the Chocolate Scorecard surveyed the world's biggest chocolate companies to find out how they are addressing key challenges in the Cocoa-chocolate value chain.

Read the full report below:



ESA/MA