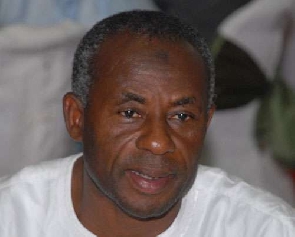 The Member of Parliament (MP) for the Asutifi South Constituency, Alhaji Collins Dauda has been adjudged the best Ghanaian MP per a research conducted by the Department of Political Science School of Social Sciences in collaboration with Konrad Adenauer Stiftung.
The study was conducted on the 275 constituencies by questioning 100 persons from each of the constituencies. 27,500 people were interviewed in all.

Based on the report, Dr. Isaac Owusu Mensah, a Senior Lecturer at the Political Science Department, UG revealed that Collins Dauda, the MP for the Asutifi South is the best MP in Ghana while Dr. Matthew Opoku Prempeh, Minister of Education and MP for Manhyia South Constituency is the best Minister in Ghana per the survey.

It was also revealed that 49.5% of Ghanaians would not vote for the incumbent MPs while 42.6% were likely to vote for the incumbent MPs.

However, 7.9% were undecided when questioned if they would vote for the incumbent MP.

Findings of the study were jointly presented on Monday in Accra by Dr. Isaac Owusu-Mensah and Mr. Kaakyire Frempong, both Senior Lecturers at the Political Science Department of the University of Ghana.
Background

Alhaji Collins Dauda became a member of the Asutifi District Assembly between 1978 and 1981.

He was a member of the Consultative Assembly that drew up the 1992 Ghana constitution between 1991 and 1992.

He was first elected to parliament in the 1992 parliamentary election on the ticket of the National Democratic Congress making him the first MP for the Asutifi South in the Fourth Republic. He won a second term in the 1996 parliamentary election.

He, however, lost his seat in 2000 parliamentary election due to an allegation that he'd used black magic to kill his political rival Prof. Gyan-Amoah just a day before the general elections. He, however, regained the seat in 2004.


During 2002 and 2004 when he was out of parliament, he was the Regional Chairman of the National Democratic Congress (NDC) in the Brong Ahafo Region.

In February 2009, Collins Dauda was appointed Minister for Lands and Mineral Resources and reshuffled to the Ministry of Water Resources, Works and Housing.