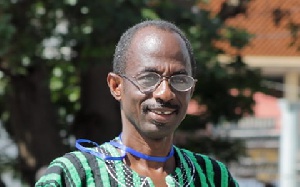 General Secretary of the opposition National Democratic Congress, Johnson Asiedu Nketia has confirmed that Alhaji Collins Dauda, whose residence was stormed by police officers in the early hours of Tuesday, September 25, has reported to the police headquarters.
According to the chief scribe of the NDC, as of 6:30pm yesterday the police had not communicated anything to them.

Speaking in an interview on Accra based radio station Asiedu Nketia said, "We have been detained for 3 hours now, but the police have not communicated anything to us and we still don't know why the police raided his [Collins Dauda] residence early this morning."

Police officers in the early hours of yesterday September 25, stormed the residence Alhaji Collins Dauda, to arrest him. The police claim they had orders from the Inspector General of Police to arrest the MP.

Minority Chief Whip, Mohammed Mubarak Muntaka confirmed this in an interview with an Accra based radio station.

He said Collins Dauda was not home when the incident occurred but his family members were left traumatised.
The Minority Chief Whip accused the government of intimidation and has vowed to resist any further threats.

Meanwhile, Speaker of Parliament Prof. Mike Ocquaye also described as unfortunate the alleged raid of the home of MP.

He asserted that, the police erred in invading the privacy of an honourable member which is against parliamentary privileges.