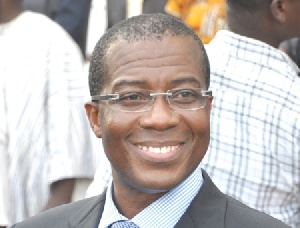 Sat, 13 Sep 2014 Source: Office of Akufo-Addo
Member of Parliament for Asuogyaman and former presidential hopeful of the New Patriotic Party, Hon. Kofi Osei-Ameyaw has appealed to the two remaining presidential aspirants of the party, who have not stepped down to support Nana Akufo-Addo, to do so, to ensure the party is united for victory in 2016 because "Ghanaians will not forgive us if we disappoint them because of disunity."

Accompanying Nana Akufo-Addo, on Friday, September 12, 2014, to meet the 79 delegates from the Greater Accra Region, who voted in the August 31 Special Electoral College, as part of Akufo-Addo's nationwide Thank You tour, Hon. Kofi Osei-Ameyaw explained that NPP delegates have spoken emphatically that they were united and wanted Nana Akufo-Addo to lead the party to victory.


In this regard, Hon. Osei-Ameyaw told the delegates that he had tried talking to the other candidates to join the 'united path,' explaining that "victory in 2016 is non-negotiable."


"I tried to advise my brothers who were on the 'divided path' to come onto the united path. I am hoping, Insha Allah, that Addae Nimo will come by next week. But if he and the rest don't come, we will let them know that we are not ready to mess around," the Asuogyaman MP stressed.


Should there be a contest on October 18, Hon. Osei Ameyaw is calling on his supporters and the 140,000 odd Electoral College of the party to campaign and ensure that the 80.81% margin of victory chalked by Nana Akufo-Addo in the Special Electoral College is surpassed


"Having heard from those at the grassroots that they have already paved the unity path, I had no option but to join the united path to power. Now it is up to you to go back to them (grassroots) that the field is only left with a few people, and the percentage must increase. My 2.16% must be added to the united path to power," he said to a loud applause from the delegates.

On why he decided not to contest the main presidential primary, he explained that the verdict from August 31 implied that the four other aspirants had been placed on a 'divided path' by the delegates, adding that "I will not stand in the way of the united path to victory."


He recalled how the NPP, when it was placed on the divided path in 1979, 2008 and 2012, lost power, "but whenever we take the united path, we win power."


In view of this, and after further consultation with the grassroots of the party, the Asuogyaman MP stated that he had decided to join the "united path" that the party has set, by campaigning for Nana Akufo-Addo to secure an emphatic mandate, firstly, from NPP delegates in the October 18 contest and secondly, from Ghanaians, in the 2016 elections.


On the statements being made by some of the remaining presidential aspirants that the views of the constituency chairmen who voted on August 31 are not representative of the views of the polling station executives, Hon. Osei-Ameyaw urged the Chairmen to prove to them that they did the will of the polling station executives, adding that "you are the chairmen, let them see how strong you are in your constituencies. If you don't deliver nothing short of 95% for Nana Akufo-Addo, then you are not strong."

Source: Office of Akufo-Addo