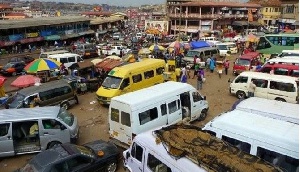 Commercial Drivers in Ghana are to petition the Chief of Defence Staff, Major General Obed Akwa, to offer them military protection to embark on their demonstration.
According to them, the Police Service has treated them unfair, after the police did not allow them to embark on their demonstration, scheduled for today.

Commercial drivers in Accra were to demonstrate on Tuesday 7, November this year against the introduction of new driver's licence, fuel increment and the new towing levy, but the Police refused them permit because the drivers did not follow the terms of agreement.

Director of Operations, Accra Regional Police Command, Chief Superintendent Kwesi Ofori who spoke to OTECNEWS explains that "boycotting of the demonstration is not our [police] business."

"Our business is to prevent vehicular demonstration, thinking that they would walk, carry their placards, the police would protect them and protect the community that they walk but here we are, they say saying that they want to bring hundreds of vehicles to demonstrate with," he said

"We have never seen this kind of demonstration in the world. The streets are not meant for car racing and we need to protect the public that is why we are urging them to go on foot. It is the mode of demonstration that we are kicking against not the demonstration in its entirety," he added.
But the drivers have described the decision as unfair said they don't understand why all the other sectors are allowed to use their tools to demonstrate whiles denying drivers from using their cars to express their displeasure.

Speaking in an interview with Otec FM's Kwaku Anane Jr, the spokesperson for True Drivers Union, Yaw Barimah, said they agreed with the police to use fifty vehicles for the demonstration, but the police prevented them from demonstrating, arguing the vehicles were plenty.

"If Nurses are demonstrating they use scissors, plaster, paracetamol during dumsor demonstration people were carrying fridges, TV set, Iron to indicate that the power crises has destroyed it, "why can't we too use our vehicle? He quizzed.

"We don't have Diesel in our cars so we decided to use 50 cars and push it on the streets for the government to know that we are suffering but today the police are with a weapons to prevent us from demonstrating, meanwhile, in the beginning they told us that they don't have personnel to protect us by hook or cock we will demonstrate," he added.

"They are not only the security agency in the country we are going to petition Chief of Defence Staff to protect us with a Military Police," Yaw Barimah stressed.