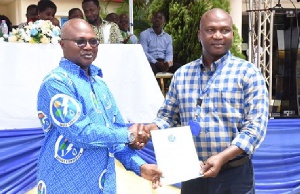 Commercial facilities in the country that fail to undergo electrical wiring test and inspection 10 years after its establishment will be closed down.
According to Dr Kingsley Ofosu Ahenkorah, Executive Secretary of the Energy Commission, the move was to enforce compliance of Regulation 11 Subsection 3(a) of the Electrical Wiring Regulations 2011, L.I. 2008, which urges for "Periodic inspection and testing shall be carried out 10 years after the initial installation and use" of public buildings.

The wiring test and inspection, he said was to ensure safety of persons, livestock and other property from hazards that arise from the distribution and use of electrical energy.

He was speaking yesterday in Accra during the 11th Electrical Wiring Certificate Award Ceremony which saw 783 persons awarded Electrical Wiring Certificates as professionals and inspectors after successfully taking part in the November/December 2018 module of the bi-annual Electrical Wiring Certification Examination.

In order to avoid the closure sanction, Dr Ahenkorah called on public and commercial facility owners to engage a certified electrical wiring inspector (CEWI) to inspect and test the electrical wiring of their facility and carry out all recommendations required to ensure that the facility was safe.

He said the CEWI, who were scattered across the country, would issue the tested and inspected facility with an Electrical Wiring Safety Certificate after all the processes were exhausted.

The purpose of the Regulations, which was passed in 2012, the Executive Secretary said, were to guide professionals who engage in electrical wiring and installation works and ensure the enforcement of minimum standards of electrical wiring on facilities.
Programmes Officer of the Energy Commission, Stephen N-ebe Yomoh, said the newly certified graduands brings to 7,801, the total certified electrical wiring professionals and inspectors in the country.

Out of the number, he stated that 4,671 were certified to undertake domestic electrical wiring, 2,582 for commercial electrical wiring, 421 received certification for industrial electrical wiring while 127 were certified as electrical wiring inspectors.

About 20 commercial electrical wiring professionals have been banned from practising this year for failing to visit facilities to conduct inspection and testing and forging test values, he said, adding that the commission has intensified enforcement and disciplinary actions to check unprofessionalism by the professionals and inspectors.

As part of efforts to ensure that both the professionals and inspectors work in line with the standards, he said the Energy Commission has reviewed the electrical wiring guideline and would commence registration of electrical contractors in June this year.

Additionally, the Commission was also facilitating groupings of certified practitioners and developing a regulation on the quality of electrical wiring accessories, Mr Yomoh stated.