'Committed' Akufo-Addo using wrong methods in galamsey fight – Frimpong-Boateng sees no end in sight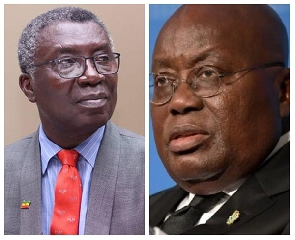 Former Minister of Environment Science and Technology, Professor Kwabena Frimpong-Boateng has stated that President Nana Addo Dankwa Akufo-Addo may be using the wrong methods in fighting galamsey.
Speaking in an interview with Joynews on Wednesday, June 6, 2023, the Chairman of the now dissolved Inter-Ministerial Committee on Illegal Mining (IMCIM) noted that the fight against galamsey will never be won under the Akufo-Addo government.

"Maybe committed but choosing the wrong methods. If he says he is committed I cannot disprove it. But then if you look at the methods that are being deployed, people are doing whatever they like, then it's not like this illegal mining will stop. And I am not expecting this thing to improve because even in the best of times when the economy was good, people were doing illegal mining and there is someone in the Ashanti Region whose wealth is based on mining.

"Even in the best of times, that is so. Next year is election year, economic crisis, people need money to campaign and so on. I don't expect that this thing will stop anytime soon, at least not until there is a new government," he said.

The media on Wednesday reported that Prof. Frimpong-Boateng had been arrested and granted bail by the Special Prosecutor.

In his interview with Joynews, Prof. Frimpong-Boateng confirmed his arrest but noted that it happened as far back as middle of last month following an invitation by the OSP.

"We waited at the lobby down there, and that was my first time in that building," he said.
"We arrived around 10 o'clock, waiting for my lawyer. When he came, we were taken upstairs to the 7th floor, where the office is, and then we were ushered into a room. I was given a chair, and opposite me was the Chief Investigator.

"On my right, there were my two lawyers, and then some officers from that office.

"So, as soon as I sat down, the Chief Investigator came to me. I was sitting down, and then he put his left hand on my right shoulder and said, 'Professor, you are under arrest.'

"Why? He said they are investigating corruption and corruption-related activities of the IMCIM that I was chairman of. Any specific thing I had done? No, they are just doing their investigations, but all the same, I was under arrest," Prof. Frimpong Boateng said.

According to him, he found the arrest "strange," considering preceding events, including some lawsuits brought against him.

Prof. Boateng-Boateng further revealed that he was subjected to two hours of investigation at the OSP's office before being granted a GHC2 million bail.
Galamsey report

Prof. Frimpong-Boateng, who chaired the Inter-Ministerial Committee on Illegal Mining, accused some government officials and appointees at the Jubilee House, including the director of operations, Mr. Lord Commey, and Mr. Gabby Asare Otchere-Darko, the president's cousin, of engaging in illegal mining activities and frustrating his fight against it during his tenure as minister.

The allegations, contained in a report submitted to the president through the Chief of Staff in 2021, were recently leaked to the media.

He also accused Information Minister Kojo Oppong Nkrumah of orchestrating media attacks against him to undermine his fight against illegal mining in the eyes of President Nana Akufo-Addo. The minister has denied all the claims.

Additionally, Professor Frimpong-Boateng named Mr. Joseph Albert Quarm, a former Member of Parliament for Manso Nkwanta, as being deeply involved in illegal mining.

The Ghana Police Service has since opened investigations into the allegations, while those implicated in his report have denied them.
Some individuals whose names were mentioned in the report have filed defamation suits against the renowned surgeon.






You can also watch the latest episode of People & Places:




Meanwhile, watch the latest episode of SayItLoud on GhanaWeb TV below:








GA/SARA