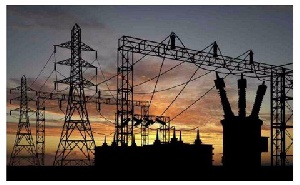 Correspondence from Bono Region
Management of the Northern Electricity Distribution Company (NEDCo) has initiated a two-week load management exercise in some parts of the Bono Region.

The two and half-hour load management exercise between the hours of 7:00 pm and 9:30 pm each day has affected all communities on feeders BRYF2, BRBF1, BRYF1, BRBF2, BRYF2, BRBF3, and BRYFI served from the Berekum sub-station.

Areas affected by the exercise include those within Berekum and its environs, Drobo, Sampa, part of Dormaa Ahenkro, Wamfie, and Seikwa.

The load-shedding exercise which began on February 17, 2023, is scheduled to end on Thursday February 24, 2023, subject to a review by NEDCo.

According to the Northern Electricity Distribution Company (NEDCo), the load management programme is due to a capacity challenge it is experiencing at the Berekum substation.
"The Management of NEDCo regrets to inform the General Public, especially its cherished customers served from the Berekum Sub-Station that due to some technical glitches experienced at both GRIDCo and NEDCo ends, it has become necessary to implement a temporal load management programme between 7:00 pm and 9:30 pm every evening from today, February 17, 2023, for the next two weeks after which the situation will be reviewed and the public advised accordingly".

NEDCo however has assured that it is working assiduously to address the capacity challenge and has appealed to the people in the affected areas to exercise some level of restraint.

"The two institutions; GRIDCo and NEDCo are collaborating feverishly to restore normalcy so we crave your patience, understanding, and prayers".

Meanwhile, some residents in the affected areas have urged NEDCo to fix the problem once and for all since power fluctuation in the area is increasingly becoming annoying and affecting several businesses as well.

"The outages have become a nuisance so we are urging them to up their game and rectify whichever problem is there".