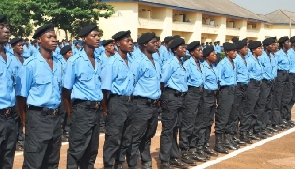 Jacob Tete, a community police officer, has reportedly defiled the 13-year-old daughter of the head of the Central Investigative Division (CID) of the Ghana Police Service in Nkurakan, a suburb of Yilo-Krobo Assembly in the Eastern Region.
According to a news report by UTV, the CID boss, whose name was given as Lucy, had good relations with Jacob and considered him as a son.

She said the incident happened after her daughter had returned from school and was resting in her room at the police barracks.

Lucy told the UTV reporter that she sent the accused to go and put something in her room.

She then realised that he had taken more time than needed and went to check up on him only to catch him having intercourse with her daughter.

Jacob Tete was arrested by other police officers in the barracks after the CID boss cried for help.
He is now in the custody of the police at the Koforidua Central Police Station.

The report indicated that the victim was left badly bruised after the attack and has now been hospitalised.

Watch the UTV report in the video below:


Community police officer allegedly rapes CID boss' 13-year-old daughter#UTVNews pic.twitter.com/dvZAnd1M3j

— UTV Ghana (@utvghana) May 25, 2023
You can also watch the latest episode of People & Places:


IB/WA