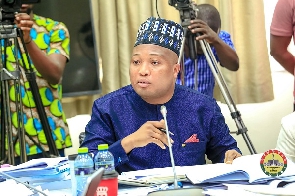 North Tongu Member of Parliament (MP) Samuel Okudzeto Ablakwa has disclosed that a company closely linked to Minister of Finance Ken Ofori-Atta has been contracted with insuring the National Cathedral construction site.
Ablakwa alleged in a January 6, 2023 post on social media that Enterprise Insurance had been given a sweetheart deal to insure the site.

He described the company as one that was intimately associated to Ofori-Atta adding that, "wife serves as a director."

"Fresh Cathedral documents in my possession reveal that Enterprise Insurance, a company Ken Ofori-Atta is intimately associated with & where his wife serves as a director was granted a sweetheart deal to insure the entire cathedral construction site," his post read.

Ablakwa who has serially published purported records of public funds sunk into the project, for the first time on January 4 spoke to privately-sourced funds for the project.

Without providing the source of his information, the lawmaker said out of the over GH₵794,000 cedis from the fundraiser, GH₵790,000 was spent as expenditure on two Bible Musuem symposia held at the Kempinski Hotel in Accra.

The Bible Museum is one of the main facilities the Cathedral will house and is touted as one of the revenue generation planks of the edifice because of its ability to attract religious tourists.
Ablakwa in a Facebook post dated January 4, referenced recent efforts by the Cathedral Secretariat to raise funds for the completion of the project after Parliament rejected an expenditure item for the project in the 2023 budget.

Find his recent tweet below:


Fresh Cathedral documents in my possession reveal that Enterprise Insurance, a company Ken Ofori-Atta is intimately associated with & where his wife serves as a director was granted a sweetheart deal to insure the entire cathedral construction site.

God save the Trade Ministry.

— Sam Okudzeto Ablakwa (@S_OkudzetoAblak) January 6, 2023
SARA