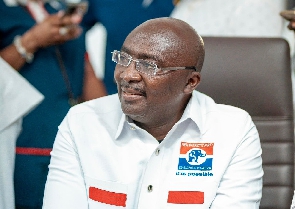 Major retired Derick Ofuro, former Nkoranza North MP, believes Vice President Dr. Mahamudu Bawumia is the only candidate who can secure victory for the New Patriotic Party (NPP) in the 2024 presidential election.
He averred that the Vice President has distinguished himself as someone who is credible, reliable, and trustworthy.

"Although I am not a delegate, I prefer someone who is credible, someone who is reliable, someone who is trustworthy, has integrity, and most importantly, a candidate who can secure our victory in 2024. We need a candidate who will appeal to every Ghanaian voter. I prefer someone who has passion, compassion, and competence. I want someone who is a unifier. That is the person I pray for, and every other party member is praying for."
The former deputy defence minister urged party delegates to vote for Dr. Bawumia because he has sacrificed for the NPP and continues to do so.

"We must vote for someone who will garner a large number of NPP votes. He possesses the qualities I mentioned as well as the ability to secure victory for the NPP. People who do not participate in partisan politics vote, so we must present them with a credible candidate. All four candidates are qualified, but I am convinced that Bawumia is the game changer and our best bet for victory," he told Kwabena Agyapong on Frontline on Rainbow Radio 87.5Fm.