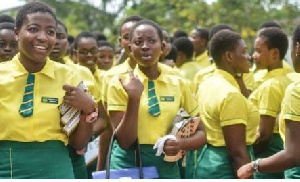 A report launched by the African Centre for Energy Policy (ACEP) on Tuesday urged government to complement the free Senior High School Policy with more investment in infrastructure at the second-cycle level.
The report noted that, while the free SHS policy comes with equality of opportunity for qualified persons to attain second-cycle education, foreseeable pressure on existing school infrastructure makes the policy a self-defeating one.

"Unless more investment is made in infrastructure provision, qualified candidates may be denied entry. Educational quality is also likely to be affected," the report noted.

The report titled "Leveraging Ghana's Oil Resources Wealth for Economic and Human Development," carried out by ACEP in partnership with the Friedrich Ebert Stiftung (FES), was undertaken to access the impact of oil revenue investment in education in Ghana.

It was launched alongside a second report titled: "A Value for Money Analysis of Annual Budget Funding Amount", that was also conducted in fulfillment of ACEP's oversight role for the transparent, efficient and equitable use and management of Ghana's petroleum revenues.

According to the report on "Leveraging Ghana's Oil Resources Wealth for Economic and Human Development", education had been found to remain a critical input and dimension of human development and economic growth.
However, current educational attainment in Ghana does not significantly impact the country's economic growth.

It also revealed that basic education in Ghana was near universal and that nearly all persons of 25 years and above had achieved 6 years and 8 months of mean years of schooling.

This means that more efforts needs to be invested in helping Ghanaian children advance to second-cycle level and beyond, the report noted.

It said, revenues from Ghana's oil resources, definitely, have a role to play in financing education.

Ms Dorcas Koomson, an Educationist, who launched the two reports, noted that, the importance of education to the socio-economic development was evidenced in how every government prioritised education and make it more accessible to all.
She said, when education was prioritised, "then we can rub shoulders with other countries and even manage our God-given resources that we are endowed with."

She commended successive governments for working to ensure a universal basic education for almost every child in the country, expressing the hope that, with more prudent measures, tertiary education could also be made free in future.

Mr Benjamin Boakye, the Executive Director of ACEP, explained that the two reports assessed the extent to which oil revenue was invested in education between 2011 and 2017, and how the report marched with the policy objectives set out in the country's education strategy plans.

The plans are: Ghana Education Strategy Plan (2010 – 2020), Education Sector Medium Term Plan (2014-2017) and the Petroleum Revenue Management Act (2011) (Act 815) as amended.

He noted that the findings emphasized the need to critically monitor oil revenue and make judicious use of it to enhance equality of opportunities for all Ghanaians.
He said Ghana should learn from the good examples of Malaysia, Indonesia, and Brazil, who had invested petroleum resources into education and reaping the benefits in terms of higher literacy rate, high human development achievement and high gross domestic product per capita.

Mr Fritz Kopseiker, the Country Director of FES, said the effective management of oil revenue was important to ensure value for money.

He, therefore, urged Ghanaians, especially the media, to continue to hold the state institutions and politicians in check to ensure that they made judicious use of the country's natural resources.