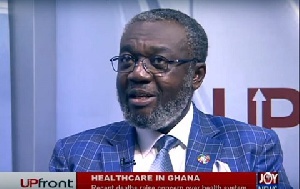 Dr Anthony Nsiah-Asare, Director-General of Ghana Health Service, says a concerted effort by stakeholders is needed to eliminate Neglected Tropical Diseases (NTDs) in the country.
He said, "The fight against NTD, which included the control, elimination, and eradication could be won if efforts also focus on the improvement of the Water Sanitation and Health (WASH) infrastructure and appropriate health-seeking behaviours".

Dr Nsiah-Asare said this at a cross-sectoral collaboration forum organised by World Vision International- Ghana under the USAID funded Act to End NTDs West Programmes held in Accra.

The event, which assembled stakeholders in the sector aimed at understanding, the roles of government and non-governmental organizations, and civil societies in the elimination of NTDs in Ghana.

He said treatment alone was inadequate to control and eliminate NTDs, such as trachoma, schistosomiasis, soil-transmitted helminthiasis, lymphatic filariasis, and Guinea worm disease.

"In practice, the repeated large-scale administration of antibiotics or anthelmintic drugs to at-risk populations is the primary focus of many NTD control programmes," he said.
He urged stakeholders to identify best practices and build a strong evidence base for collaborative programming.

Dr Nsiah-Asare also called on the various partners in the NTDs elimination campaign to identify the most effective, sustainable, and scalable methods of integrating WASH and NTD control activities.

"There are strong and direct relationships between under-nutrition and NTDs. Under-nutrition increases the risk of infection, the severity of disease and the risk that children will die, while the physical damage, loss of appetite, and host responses during chronic infection can contribute substantially to under-nutrition.

"These relationships are often synergistic. Mass Drug Administration (MDA) the major strategy currently, proposed to control many NTDs is crucial to controlling disease and transmission, but MDA can't do it alone, hence, the need for inter-sectoral collaboration," he added.

Dr Joyce Rosalind Aryee, an Ambassador of NTDs, said issues about NTDs had a negative impact on the economy but were often overlooked because it was not life-threatening.
"When a working man or a woman has disfigured legs as a result of elephantiasis the fellow cannot work and it will affect the livelihood of its direct and indirect dependents", she said

"This affects the nation at large because they would not be able to support the development of the country with their resources. Ghana should be free from NTDs".

Dr Aryee urged stakeholders to develop rigorous and comprehensive strategies to eliminate NTDs in the country.

Mr Dickens Thunde, the National Director of World Vision International-Ghana said as part of the company's Promise 2030, it had committed to ensuring that everyone especially children enjoyed good health and were protected from disease, educated for life and enabled to fulfill their potential.