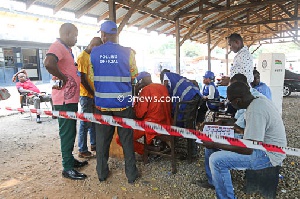 Confusion rocked the start of Sunday's Special Voting at the Ayawaso East Constituency in the Greater Accra Region after disagreement between the presiding officer and the New Patriotic Party (NPP) polling agent over the register to use.
According to 3FM's Karren Dodoo, the presiding officer wanted to use the original Special Voters' list while the NPP agent wanted a use of the updated list specially made available for Sunday's exercise.

But the Electoral Commission, Ghana (EC) official detected that the new list was short by five names and insisted the December 1 list was rather used.

Karren Dodoo also reports that there was confusion with regard to the number of polling agents to be at the center.

The presiding officer wanted one agent each for the party, a request that did not go down well with the parties present.
Addressing the issue on 3FM 92.7 MHz, Head of Communications at the EC Eric Kofi Dzakpasu said presidential and parliamentary candidates register separately.

As a result, he explained, they will need individual agents for the exercise.

Therefore, some parties could have two agents at a center.

He promised the situation will be looked into and solved.