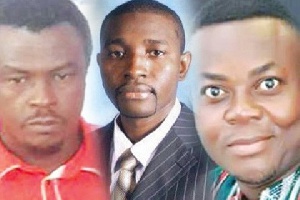 The Supreme Court has ordered plaintiffs Nana Asante Bediatuo, Elekplelim Agbameva and Alfred Tuah-Yeboah to consolidate their statement of case and file their Memorandum of Issues on their suit challenging the remission granted the Montie 3 by former President John Mahama while he was in office.
The Montie 3: Godwin Ako Gunn, Alistair Taro Nelson and Salifu Maase (Mugabe) were granted the remission by Mr Mahama after having served a month of their three-month jail term pronounced on them by the Supreme Court for contempt.

They had made threatening comments against the Chief Justice and some members of the bench in connection with a ruling by the same court ordering the Electoral Commission to submit a list of persons who registered with NHIS cards.

The remission granted by Mr Mahama did not go down well with Mr Bediatuo, who is now serving as President Nana Akufo-Addo's Executive Secretary, as well as the two others.

In court on Tuesday, 14 February, court correspondent Ama Brako Ampofo reported that the plaintiffs sought interpretation of Article 72 of 1992 Constitution which requires that the president consults the Council of State in granting pardon or remission to convicted criminals.
A seven-member panel chaired by Justice Sophia Adinyira ordered the three plaintiffs to consolidate their cases as they are all seeking the same reliefs.

They are praying the court to order the arrest of the Montie 3 to complete the remainder of their jail term.

The case was adjourned indefinitely as the 1st plaintiff Nana Asante Bediatuo and his lawyer Godfred Yeboah Dame were out of the jurisdiction of the court.