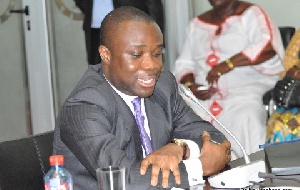 The Energy Minister's claim that the Bureau of National Investigations (BNI) has cleared the Managing Director of the Bulk Oil Storage and Transportation Company Limited (BOST), Alfred Obeng Boateng, of any wrongdoing in the sale of the contaminated fuel to two unlicensed companies is "farcical", former Deputy Minister of Communications Felix Kwakye Ofosu has said.
Mr Boakye Agyarko on Tuesday July 4 said at a press conference that the BNI and National Security had conducted an investigation into the matter and cleared the MD of any wrongdoing.

He subsequently dismissed allegations made by the Minority in parliament to the effect that National Security and the Bureau of National Investigations (BNI) are covering up for officials at BOST.

Mr Boakye explained that the contaminated fuel had been fully accounted for and had not been sold to oil marketing companies.

He revealed that the contaminated fuel was currently "being quarantined" at the various depots and does not pose any danger to public safety, adding that his ministry will review and introduce new regulations on the sale and discharge of contaminated fuels. Further, it will publish a competitive tender process based on transparent advertisement for the sale of products that have become contaminated.
But commenting on this matter on his Facebook page on Wednesday July 5, Mr Kwakye Ofosu said: "A most farcical cover-up has been attempted by this government in the BOST-contaminated fuel corruption scandal.

"After setting up a committee to look into the matter, the Minister of Energy has held a press conference to claim that a supposed BNI investigation has 'cleared' the BOST MD of any wrongdoing.

"Never mind that the NPA, which is the industry regulator, was unambiguous when it indicted the man for doing business with companies (Movenpinaa and Zup Oil) on the basis of express provisions in their governing law, because they were not licensed to carry out such activity. Heck, the Minister cited the NPA's indictment as proof of no cover up."