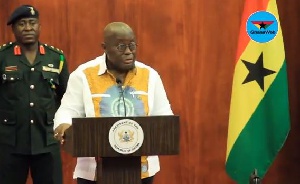 President Nana Addo Dankwa Akufo-Addo has expressed his readiness to pay contractors who have done genuine jobs under his government.
He observed that most contracts awarded under the previous administration were inflated reiterating his resolve to protecting the public purse as President of the republic.

Addressing the media as part of his second media encounter at the Flagstaff House, the President said most of the arrears in the road sector have been cleared with efforts by his government to offset the rest in the course of the year.

This was in response to an appeal by former President John Dramani Mahama who charged the governing New Patriotic Party (NPP) to pay debts owed government contractors.

"During the 2016 campaign, the NPP promised to pay monies owed contractors within its first 100 days after taking office. Till now the contractors have still not been paid," Mr Mahama observed in an address to party supporters at Techiman in the Brong Ahafo region during the 5th Unity Walk by the National Democratic Congress (NDC) on Saturday, January 6.

According to Mr Mahama, contractors play important roles in stimulating economic activities and it is time for the government to fulfill their obligation which they have failed to do after one year in office.
Mr Mahama further urged the government not to take Ghanaians for granted and ensure that all the numerous promises made to the citizens are honored.