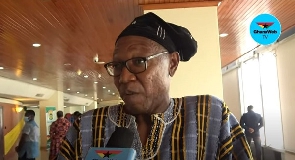 The deputy ranking member on Education Committee in Parliament, Dr. Clement Apaak has called on the government to convene a National Forum to address the implementation challenges that have bedeviled the Free Senior High School (FSHS) policy.
His call comes on the back of the IMF's recent report ahead of the approval of the country's $3 billion bailout highlighted the poor implementation and targeting of the FSHS policy.

"Ghana spends close to 4 percent of GDP on education with good results in terms of enrolment but poor learning outcomes. The flagship programme Free Senior High School (SHS), which covers the full cost of secondary education, has helped increase enrolment but is poorly targeted," the IMF noted.

According to the IMF, "potential improvement of education spending include strengthening primary education resources, better teacher training, and stronger performance-based funding practices."

However, in a statement by the deputy ranking on Education Committee in Parliament, he urged the government to act fast on the concerns of the IMF.
Dr. Apaak further indicated that the IMF's position on the FSHS vindicates John Dramani Mahama.

He stated that the former President has never missed an opportunity to call on Akufo-Addo to initiate a national stakeholders forum to review the policy to make it better.

"John Dramani Mahama, as well as academics such as Profs Addae Mensah, Ernest Ayittey, Naana Jane Opoku Agyemang, Oduro and education sector CSOs including EduWatch IFEST are all on record admitting that while the policy, born out of our constitution, is good but is poorly implemented by the Akufo-Addo/Bawumia NPP government.

"Therefore, if the IMF has reached the same conclusion by calling for better targeting, it's my hope that the government will no longer waste time in convening a national forum to undertake a comprehensive review of the policy aimed at addressing the implementation challenges. I believe a review will produce useful suggestions on how to make it sustainable, effective, efficient, and to maximize its benefits for the good of our children and Ghana," Dr. Apaak stated.