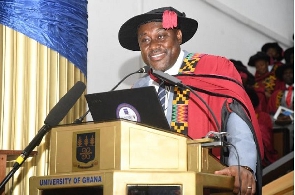 Founding Director of West African Center for Cell Biology of Infectious Pathogens (WACCBIP), Prof Gordon Awandare is urging the government to convert the existing covid levy into a research levy.
Some analysts have been pushing for the scrapping of the levy following the World Health Organization's (WHO) declaration of an end to the pandemic.

But the Pro Vice Chancellor of the University of Ghana (UG) is proposing the levy be instead converted towards advancing the research needs of the country.

"Currently we have covid levy and I have suggested that from next year, now that we are quite confident that COVID-19 is behind us, let's re-designate that COVID levy as a research levy.
"And put that towards the research and innovation fund", he told journalists on the sidelines of this year's WACCBIP research conference and the launch of WACCBIP's 10th anniversary.

Prof. Awandare argues that this would better place the country in a position to defend itself should another pandemic occur in future.

"If you put investment in science research it may take time but it would eventually pay off. Most of the new economies have led with innovation and make things for us to buy. But they invested in science before they get here", he added.