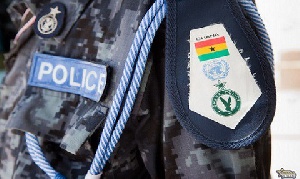 A group of irate youth in Sawla, in the Sawla-Tuna-Kalba District of the Northern Region, has threatened to burn down the Sawla Police Station.
The angry mob, wielding sticks and cutlasses, stormed and attacked the police station last Wednesday night, after a local executive of the ruling New Patriotic Party (NPP) was arrested and taken into custody following a confrontation with an officer over a woman.

The NPP Youth Organiser in the constituency, Adamu Sakara, was picked up for allegedly attacking a police officer at his private residence having suspected the law enforcement agent was in an amorous relationship with his fiancée.

According to the youth, Adamu Sakara caught the police officer whose name was only given as Ocloo Labister sleeping with his married wife on Wednesday afternoon, July 11, 2018.

The youth alleged that the wife who also works as Community Police at Sawla Police Station has been dating Ocloo for a very long time.

"This is not the first time Ocloo has committed such a silly act. He last slept with someone's wife at Kalba and is chasing the girlfriends and wives of others. We have beaten him and want him out of our town now", one youth said.
The Sawla/Tuna/Kalba District Police Commander, DSP Ofori Boateng, speaking on Adom FM yesterday said that the officer who was attacked by a section of the youth was receiving medical attention at the hospital.

He, however, confirmed the attack but described it as "a small skirmish" which did not escalate.

He said the police have commenced investigations into the matter.

DSP Ofori Boateng said calm has since been restored at Sawla