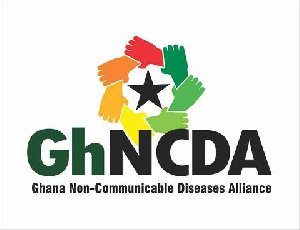 The Ghana Non-Communicable Diseases Alliance (GhNCDA) is urging government to put measures in place to protect people living with non-communicable diseases (NCDs) to stem the spread of Coronavirus
The GhNCDA says persons living with NCDs stands to encounter serious health implications should they contact the COVID-19.

In a press statement copied to Ghanaweb.com, it announced that as part of Ghana NCD Alliance efforts in complementing what government doing towards containing the COVID 19 pandemic, they will be rolling out series of awareness and educational activities in many of the regions especially.

The Alliance will continue to serve in the interest and the betterment of people living with NCDs and vulnerable groups in the country, the National Coordinator, Ghana NCD Alliance indicated.

Below is the full press release

People living with non-communicable diseases must be protected to contain the Corona Virus (COVID 19)

Ghana's situation on the Covid-19 is worsening by the day. Official updates indicate that the country has a total of 161 recorded cases with 5 deaths and 31 recoveries as of 31st March, 2020. President Nana Addo Dankwa Akufo- Addo has announced a two- week partial lockdown in the Greater Accra region and Kumasi.
The Ghana NCD Alliance supports the decision made by the President in the country's bid to minimize and stop the spread of the Covid-19. The Ghana NCD Alliance urges all Ghanaians to abide by the directive and stick to the precautionary outlined measures.

The Covid-19 has become a global pandemic and it has affected every aspect of our daily lives. There have been panic and fear in the wake of the virus and it spread.

It is important to note that people living with non-communicable diseases (NCDs) stands to encounter serious health implications should they contact the Covid-19.

In addition, older people and people with pre-existing conditions such as heart diseases, diabetes, respiratory disorders among other NCDs appear to be more prone to becoming severely ill with the virus.

People with mental health and Alzheimer's conditions also suffers significantly due to the fear and anxiety this pandemic carries.

So while we plead with persons with predispose health condition above to follow all the precautionary measures with much discipline and eat well balanced diet to boost their immune system to keep them fit, we entreat healthcare givers to give them special treatment in this hard and uncertain time including communicating with the patients to understand their conditions vis a vis the COVID 19.
Above all we call on government to ban the sale of tobacco (cigarettes) and alcoholic beverages including advertisement of alcohol on TV and radio to help contain the COVID-19 pandemic.

Recent study shows that people living with NCDs and those with pre-existing conditions die or are greatly affected by COVID- 19.

South Africa in the wake of their three-week lockdown to defeat Covid-19, has banned the sale of alcohol and cigarettes warning that offenders risked being prosecuted and either fined or jailed. Tobacco is not recognized as an essential item especially in the country's fight against Covid-19.

"both smoking and alcohol intake are the leading causes of preventable diseases such as cancers, heart diseases etc. these diseases highly exposes one to contracting and increasing the severity of COVID- 19 than those without the disease or those who do not smoke or drink alcohol.

According to Constantine Vardavas, a research associate at the University of Crete's school of medicine, "If smoking does predispose people to having adverse outcomes during COVID-19 it is a funny position to be giving ventilators but selling a product that leads to worse outcomes,"

Tips and advice for people living with non-communicable diseases
Take medications and follow medical advice Maintain your visiting schedule with your doctor, the lockdown does not prevent you from going to the hospital Report any symptom such as fever, cough, headache, breathing difficulty to any hospital or call the toll free lines (055-8439868, 050-9497700 and 112) Practice social distancing especially if you have to go out, at least one meter Wash hands with soap under running water for at least 20seconds and hand sanitizers Quit and avoid smoking and the consumption of alcohol Engage in recreational activities and activate your hobbies, read, watch documentaries/movies, listen to radio and above all be physically active at all time while at home Living a healthy lifestyle is very important as it will help in the functioning of the body. The Ghana NCD Alliance encourages the public to eat healthy diets, consume plenty of water, fruits and vegetables and engage in physical activities to keep active.

As part of our efforts in complementing government towards containing the COVID 19 pandemic, the Ghana NCD Alliance will be rolling out series of awareness and educational activities in many of the regions especially in hard to reach communities. This will include mobile van campaigns at the local level, media/social media engagements and donations etc.

The Ghana NCD Alliance will continue to serve in the interest and the betterment of people living with NCDs and vulnerable groups in the country.

…………………………………………………………………………………….

For more information Contact

Labram Musah
National Coordinator, Ghana NCD Alliance

+233-243-211854 labrammmusah@valdghana.org