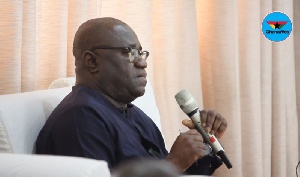 Security expert and Head of the Department of Research at the Kofi Annan International Peacekeeping Training Centre (KAIPTC) in Accra, Professor Kwesi Aning has suggested that showing graphic images of COVID-19 patients on TV may force Ghanaians to take the disease seriously.
Speaking on Morning Starr on Thursday, Professor Aning stated that it seems Ghanaians have relaxed their safety measures and going about their duties despite the increasing numbers of the COVID-19 in Ghana.

COVID-19 deaths in Ghana have risen to 66 from 58 since the last count on Tuesday, June 16, 2020.

The development means 8 patients have died in less than 24hours.

Confirmed cases of the virus have also moved to 12,590 from 12,193 while recoveries now stand at 4,410.

According to Professor Aning, urgent steps including the law in arresting people flouting the directive on face mask must be taken to curb the worrying increase in COVID-19 cases across the country.
"If we add the law [and] graphic imagery of what the ventilator does to you and how you'll feel when you're on are on it, people will start protecting themselves," Professor Aning told host Francis Abban.

Meanwhile, the Minority in Parliament has warned that the country's health system will soon collapse as a result of the overwhelming cases of Covid-19.

In an interview with Starr News a medical Doctor and minority member of the health committee, Dr Sebastian Sandaare accused the government of gagging technical persons on the frontline from speaking freely to the precarious situation the nation finds itself in.

Dr Sandaare charged the President to as a matter of urgency abandon his Covid-19 team which he argues is partisan and assemble another one with a national character to assist rescuing the country from the crisis.