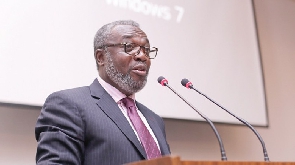 In a bid to ensure the fast spreading Novel Coronavirus does not affect Ghana, the Special Advisor on health issues at the Presidency, Dr. Anthony Nsiah-Asare, has cautioned Ghanaians, especially traders, to avoid travelling to China until calm returns to the Asian country.
He said provided it is not an urgent transaction, it is better for individuals planning to go to China to remain in the country to avoid any possible contraction of the virus.

"We are appealing to those trading. We have people who move between China and Ghana. If you don't have any essential business to do in China it's better you take a holiday. Please save yourself a lot of problems," he pleaded.

The former Ghana Health Service Director said the warning forms part of the preventive measures by government to stop the disease that has affected a number of countries from engulfing Ghana.

In an exclusive interview with GhanaWeb, Dr Nsiah-Asare noted that the China government is working to ensure the canker is dealt with as soon as possible adding that China is in lease with immigration to control movement from China to Ghana.

However, he indicated that persons who leave China to Ghana will go through a 14-day quarantine process at strategic health centres before they are cleared and allowed to move freely in the country.
"If you go and come and come back and you know that you move fromm Ghana to China, It's likely you will be quarantined for you to go through the 14-day quarantine period."

On the test results following a recent alarm that two foreign nationals – a Chinese and an Argentian – were suspected to have contracted the virus few days after their arrival from China, Dr Nsiah-Asare called for calm stating that government is on high alert and making sure that "we do not have surprises on our hands."



He said the country's medical research laboratory, Noguchi Memorial Institute, has the capacity when it comes to detection, test, and managing a possible crisis.

"We have involved stakeholders including the West African sub-region of the World Health Organization (WHO) and the Chinese government and we will continue to brief Ghanaians on any update." He averred.