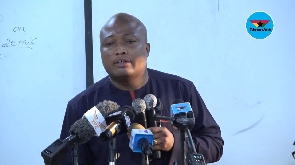 Member of Parliament for North Tongu, Samuel Okudzeto Ablakwa, has said that Ghana can overcome the COVID-19 but not with deception from government.
His statement comes on the back of the Finance Minister's disclosure in Parliament that the $100 million issued by President Akufo-Addo to fight coronavirus pandemic was not readily available.

According to the Finance Minister, on the fiscal implications of the coronavirus, government is discussing with the International Monetary Fund to access part of a US$10 billion facility, made available by the IMF to address coronavirus through the Read Credit Facility.

"We are also discussing with other multilateral and bilateral partners on potential assistance to close the financing gap," he noted.

But the Ranking Member of the Foreign Affairs Committee expressed disappointment describing the revelation made by the Finance Minister as a "terribly disappointing news, particularly, from a government espousing a Ghana beyond aid philosophy."

"This is not the level of sincerity, seriousness and commitment other governments are demonstrating in combating the pandemic.

"One can now clearly understand why health practitioners of different categories across the nation continue to lament about the lack of basic protective equipment," he lamented on Facebook.
Ablakwa noted that a deficit on the part of government as lead actors would undermine genuine consensus and goodwill from all well-meaning quarters especially when opposition is determined to rally the nation beyond partisanship to defeat COVID-19.



He noted, "Coronavirus can be defeated but not with deception and hollow rhetoric. Mr. President, we demand real, convincing and sincere commitment!"

See the full post below