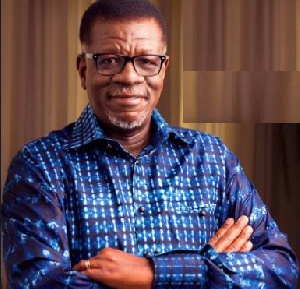 Founder and Head Pastor of the International Central Gospel Church (ICGC), Pastor Mensa Otabil, has asserted that the world, being troubled by the novel coronavirus, is crying Hosanna, but does not know whom exactly they are directing it to.
This assertion was made during his preaching at Palm Sunday's church service which was broadcast live on the Global Media Alliance Broadcast(GMAbc) brands, Happy Fm, eTV Ghana and across the Y-Triangle.

He observed that within the past few months, there has been an oppressor, which is the Coronavirus, oppressing the rich, poor, aged, and all caliber of people. "It's a virus and all over the world, people are crying hosanna. We may not use the words but that's what the world is crying for. We cry Hosanna-Save us- but whom are we crying our Hosanna to?", he questioned.

According to him, people have always thought that Science is advanced thus, scientists can just snap a finger and the virus will be dealt with but science has failed us. Per his view, one of the reasons why people are anxious is because they trusted in Science and cried Hosanna to Science yet Science doesn't seem to know what to do.

"Here with all our scientific development and advancement, being able to look through galaxies light years away and we can't deal with a tiny virus in front of us", said the Head Pastor.

Pastor Otabil continued, "We thought governments were very powerful but the governments have failed. The government of the United States, Russia, China, the United Kingdom, Germany, these are supposed to be the rulers of the world because they know how to fix problems but they can't. We cannot say Hosanna to governments".
As it stands now, wealth and even the church, according to him, has failed us because it cannot save us, thus, the world needs to learn from the Israelites from back in the time of Jesus. "When they cried Hosanna, they didn't cry Hosanna to Pilate or Caesar or to some powerful system, but they cried Hosanna to a very unlikely person whose name was Jesus", he shared.

Pastor Mensa Otabil advised that God is the only one who can deliver the world from the Covid-19 pandemic, hence we should direct our cries of Hosanna to God and not to powerful systems which obviously, have failed us.