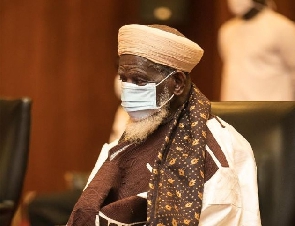 Spokesperson for the National Chief Iman, Sheikh Armiyawo Shaibu has announced the 2020 Eidul-Fitr celebration will take place in Ghana on Sunday 24th May 2020.
A statement issued and copied to GhanaWeb said; "Following the COVID-19 preventive restrictions on social gathering, a virtual EIDUL-FITR celebration prayer will be led by the Eminent National Chief Imam supported by the Muslim leaders at the Ghana Broadcasting corporation house on Sunday 24th May 2020 at 9:00am prompt."

"His Excellency the President of the Republic of Ghana supported by the vice president will use the occasion to address Muslims country wide."
"Accordingly all Muslims in the country are advised to celebrate the 2020 EIDUL-FITR with families at home by following the National Chief Imam on the state television," the statement added.

"We wish to take this opportunity to wish Muslims in Ghana and beyond a happy COVID-19 EIDUL-FITR 2020 celebration," it concluded.