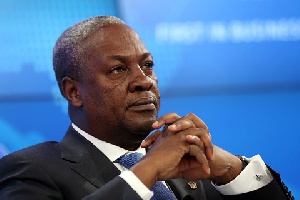 The Ashanti Regional Chairman of the New Patriotic Party, Mr. Bernard Antwi-Bosiako, has warned ex-president John Mahama to stay put in his lane and never attempt to tarnish the image of President Akufo-Addo's government when it comes to tackling corruption.
The former president has come under attack for describing the Ghanapost GPS system launched under President Akufo-Addo, as '419' scam.

In an address to members of the NDC last Sunday, the former President asked President Akufo Addo to hold accountable those who were involved in the launch of the 'fraudulent' system which he described as a "419" scam.

Ex-president Mahama questioned the decision by the Akufo-Addo led government to inject GHC15 million into the GPS system which he claims is freely available on every smart phone.

"How can you launch a Google GPS system that is freely available on our mobile phone and say it is a national addressing system. It is such a pity. Why will you embarrass the president so much? You go and take a whole president to bring him to come and launch a system that is 419…when we talk about accountability; this is where the president should show that he is serious about corruption. Somebody must account for 15 million giving away free of charge", he said.

But Mr. Bernard Antwi-Bosiako also known as Chairman Wontumi, contends that the Ghana Post GPS launched President Akufo-Addo on Wednesday, October 18, is a solid way his government intends to formalize Ghana's economy.
According to Chairman Wontumi, considering the mammoth corruption that took place in the erstwhile Mahama administration, "he should be jail by now".

He described the former president as corrupt and stated that if he wasn't insulated by an indemnity, he would have been in jail by now.

"John Mahama is corrupt and that is his track record. He was asked to stepdown by voters because he is corrupt and he wants to throw that senseless argument at us".

He continued that "Has Mahama forgotten about the bus branding? Does he need a reminder? Has he forgotten about GYEEDA and SUBAH? Has he forgotten about the Ford gift he took as bribe from the foreign contractor? Has Mahama just forgotten about the bogus contracts he was signing when he was in power? The list is endless and I can go on and on", Chairman Wontumi said.