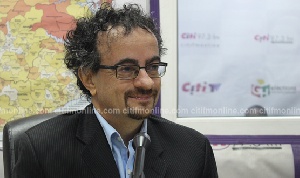 The Former British High Commissioner to Ghana, Jon Benjamin has said that only corrupt officials are afraid of Investigative Journalist, Anas Aremeyaw Anas.
Anas has over the years exposed the rot in various public institutions in the country.

His latest work has brought the Ghana Football Association down after it brought to light several corrupt practices at the Association to light.

But Jon Benjamin responding to a tweet by a follower who insisted that he should be investigated by Anas said ""My friend @anasglobal is welcome to come and investigate me. There is nothing to investigate. People who aren't corrupt and have done nothing wrong have nothing to fear," an indication that he has nothing to hide.