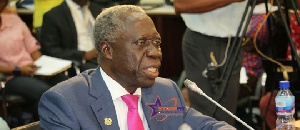 Senior Minister Yaw Osafo Maafo has said that government officials found culpable of corruption will not escape prosecution.
According to him, Ghanaians should be patient with the Akufo-Addo government which has resolved to deal with corruption.

Mr Maafo, who was speaking on Monday, 4 December at the launch of the Anti-Corruption and Transparency Week in Accra, said the president asked him to convey that message.

He said: "The president told me that: 'When you go, emphasise the point that we are certainly going to make people who have wronged this nation through corruption suffer for their deeds'".
"But we don't want to do this in a hurry, we must do thorough investigation… we must do it in such a way that people who have wronged the system are identified through thorough investigation and they will answer for their crimes".

The programme is under the theme: "NACAP: Strengthening Public, Private and Civil Society Partnership in the fight against corruption".