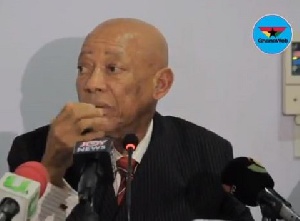 A former CHRAJ boss Justice Emile Short is calling for a holistic approach to deal with corruption in the country as the two major political parties – the NDC and the NPP – engage in a blame game over Ghana's poor performance in the 2017 Corruption Perception Index.
Ghana was ranked 81 out of 180 countries in the latest Index released on Wednesday by Transparency International. Ghana scored 40 as against last year's score of 43 – dropping 11 places. It is Ghana's worst performance in the last six years in its fight against the canker. The CPI score indicates the perceived level of public sector corruption on a scale of zero (being highly corrupt) to 100 (very clean).

"We have the CPI for 2017 and Ghana performed not too good. Ghana actually dropped so far as our score is concerned. The most important thing on the CPI is the score and so on the scale of 0 to 100, Ghana scored 40 out of 100 points," the Executive Director of the local chapter of Transparency International, Ghana Integrity Initiative, Linda Ofori-Kwafo said.

She said Ghana's poor score in 2017 is a reflection of inadequate investigations, prosecutions and sanctioning of corrupt officials.

New Zealand and Denmark ranked highest with scores of 89 and 88 respectively while Syria, South Sudan and Somalia rank lowest with scores of 14, 12 and 9 respectively.
Government is blaming the dip on the previous Mahama administration—a stance the opposition has vehemently rejected with the former advisor to ex-President John Mahama on Governance and Corruption, Daniel Batidam saying all the hard work done previously to fight the scourge and help Ghana rise on the Perception Index was gradually being derailed by the lack of action by the Akufo-Addo led government.

Speaking to Starr News on the development Justice Short said pragmatic steps devoid of politics must be taken to address the canker.

"…This is a national problem and if we can fight corruption effectively it will benefit each and every one of us—whether you are NPP or NDC – because it means that the government will have more resources to be able to provide social amenities [including] educational facilities, health facilities and so on," he said.

Thus, he added: "It will interest everyone to be part of the solution and not part of the problem," stressing: "I don't think it will be fruitful for us to engage in this blame game and that everybody has to know the role that he or she has to play to bring about significant reduction in the level of corruption."