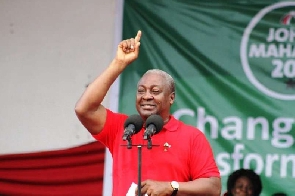 Former President John Dramani Mahama, who is also the Presidential candidate for the National Democratic Congress (NDC), has assured Ghanaians that their suffering under the current NPP administration will soon come to an end.
He has urged citizens to remain calm and consider voting for the NDC in the upcoming 2024 elections as a means to alleviate their hardships.

Addressing an audience at the 44th anniversary of the June 4th uprising in Hohoe, former President Mahama empathized with Ghanaians, acknowledging their struggle under the current government.

He stated that corruption, economic hardships, and insensitivity towards the people's plight would be a thing of the past if the NDC is elected to power.

"We are responsible for organizing and letting our message of hope reach everyone across the length and breadth of our land," stated former President Mahama.

"The dark days will last only for a moment more, and a new dawn is lurking on the horizon.

"And when that new dawn breaks, the governmental rot, the economic hardships, the insensitivity to the plight of the people, and the offensive corruption and waste of the people's resources will be a thing of the past," rainbowradioonline.com quoted him as saying.

Former President Mahama urged the Ghanaian people not to be misled by "hollow sloganeering" and "shallow populism" propagated by those who had made their lives difficult for years.
He further urged citizens not to be swayed into voting for the ruling NPP in the 2024 elections but rather to choose the NDC for a brighter future.

"Do not allow them to confuse you that you must vote for them in 2024," he warned.

John Mahama previously served as President of Ghana from 2012 to 2016 before losing to Akufo-Addo in the 2016 presidential election.

He unsuccessfully ran against Akufo-Addo again in the 2020 election.

He has been re-elected as the flagbearer of the NDC and has expressed confidence that he can win in 2024 and bring about the changes he believes the country needs.



Meanwhile, watch a snippet of GhanaWeb TV's latest program that focuses mainly on Everyday People below:




Watch the latest episode of The Lowdown below:





Meanwhile, watch the first episode of Everyday People on GhanaWeb TV below:


Watch the latest edition of BizTech and Biz Headlines below:









Meanwhile, watch the latest episode of SayItLoud on GhanaWeb TV below:




AM/GA