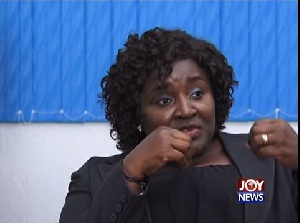 A member of the governing board of the Office of the Special Prosecutor, Linda Ofori-Kwafo, has called on Ghanaians to actively participate in government's fight against corruption.
Ghana is said to be losing more than $3billion every year through corruption.

The amount is said to be about 300 per cent of all the aid it receives in the same period, according to a study by IMANI Africa which looked at procurement losses in the reports of the Auditor General between 2012 and 2014 and compared it to the aid received by the country within the period.

The loss of money through corruption is usually in the area of public procurement, with public officials inflating contract prices for the provision of goods and services.

Worried about the development, President Akufo-Addo established the Office of the Special Prosecutor to eradicate the canker in the country, inaugurating a nine-member governing board for it to drive the agenda.

The nine-member board was inaugurated Thursday July 12, 2018, nearly five months after Martin Amidu was sworn in as the Special Prosecutor.


Speaking to Starr News, Ofori-Kwafo who is also the Executive Director of Ghana Integrity Initiative (GII) said despite high public interest in the Office, fighting corruption will be a mirage if cases are not reported for necessary action.

"Obviously, everybody should be angry at corruption and be ready to demand accountability from officers who have been put in place to fight the canker. We actually know how angry Ghanaians are and we will work hard towards the minimization of corruption in the country," she said.

That notwithstanding, she added: "Every Ghanaian should play a role in that area and not sit on the fence and just want to see corruption disappear. It doesn't work like that. If we are to become effective, we should report corruption cases."