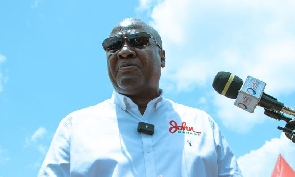 Former President John Mahama has described corruption as an instrument of murder given that he can deprive citizens of critical infrastructure or care that costs their lives, urging estate surveyors and valuers to work to improve upon asset valuation to tackle this crippling phenomenon.
John Mahama asserted that professionals like estate surveyors and valuers who sidestep their professional oaths endorse or approve poor infrastructural projects such as buildings and bridges invariably lead to the deaths of citizens who make use of these projects.

He made these comments today, June 22, 2023, at Illorin in Kwara State as part of his speech as Special Guest at the 53rd Annual Conference of the Nigeria Institution of Surveyors and Valuers (NIESV) under the theme "Asset Valuation as a Global Anti-Corruption Tool: The Nigeria Experience".

"Corruption can be described as an instrument of murder because its effects can lead to the loss of citizens' lives due to the deprivation of critical public infrastructure and services. Surveyors, Architects, and Engineers who sign off on poorly constructed or shoddy infrastructure projects like roads, bridges, buildings, and railways can lead to loss of lives due to fatal accidents," he said.
He then urged the Nigerian Institution of Estate Surveyors and Valuers to take pragmatic steps to improve upon their work so as to tackle corruption which will lead Nigeria to take its rightful place as an economic giant of Africa.

"Finally, the Nigerian Institution of Estate Surveyors and Valuers must champion efforts to enhance real-time data availability, improve technology adoption for land and real estate services online, and formulate relevant legislation for property management. With the leadership and commitment of the NIESV, asset valuation as a global anti-corruption the tool will take firm roots in Nigeria with the hope that the giant of West Africa will rise again and soar like the eagle that calls its compatriots to obey," he emphasized.