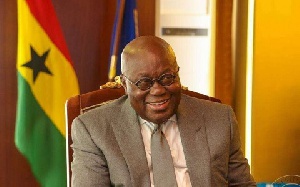 Perceived upsurge in reports of corruption which have entangled the Akufo-Addo-led New Patriotic Party (NPP) administration has compelled Mr Daniel Tonyi-Idikoko to describe the "wealth-amassing venture of the ruling government" as a profession.
Mr Tonyi-Idikoko, chairman of St James branch of the National Democratic Congress (NDC) in the Ho Municipality of the Volta Region said "the situation has become worse because the NPP government sees nothing wrong with looting state resources."

In an interview with the DAILY HERITAGE, the chairman noted that corruption is now a profession under President Akufo-Addo. He said even when resources were made available to them they were unable to manage them but rather chose to loot the state as was in the 'cash for seat' saga.

The NDC branch chairman claimed that about 81% of the citizenry had said corruption had increased over the last 12 months and eaten into every facet of the Ghanaian economy.

He was incensed by the fact that government had turned a blind eye on its appointees perceived to be corrupt.

He said God should help Ghanaians to resist the NPP's oppressors rule.
The branch chairman further said the suspension of the Upper West Regional Minister, Alhaji Sulemana Alhassan recently was a political gimmick just as former President John Agyekum Kufuor did to Mallam Issah without recourse to his human rights and dignity.

He added that Ghanaians could no longer continue to wallow in poverty and economic hardship whilst a few of them grab and spend state funds with impunity.

He challenged President Akufo-Addo to create jobs for the increasing unemployed graduates and youth in the country, fix the rampant power fluctuations in the country and also create the enabling environment for businesses to thrive.

"Walk the talk and stop the rhetoric," he told the President.