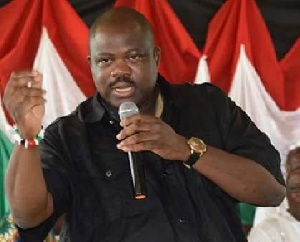 Fri, 30 Mar 2018 Source: Daniel Kaku
The Deputy National Organizer of the National Democratic Congress (NDC), Joshua Hamidu Akamba has indicated that the change of the name of the seat of Government from Flagstaff House to Jubilee House is as a result of the numerous corruption scandals that have bedeviled the NPP government at the Flagstaff.
The government has officially renamed the Flagstaff House to Jubilee House.

In a statement issued by the Presidency on Thursday, March 29, 2018, President Akufo-Addo said the name of the seat of Government has never been Flagstaff House as being purported in publications.

He said, the Flagstaff House was rather a separate residential building located at the seat of Government.

The statement further indicated that for historical and tourism purposes, Flagstaff House which is situated on the premises of the Jubilee House will be preserved and commemorated as the residence of the 1st President of Ghana.
But speaking in an interview with the reporter on Thursday afternoon, Joshua Akamba indicated that he believes President Akufo-Addo resorted to changing the name of the seat of Government to Jubilee House is to cleanse it of numerous corruption scandals at the Flagstaff under this government.

He further explained that "anyone who googles Flagstaff House today, only gets to read stories about the Assault of ASP Nanka Bruce, alleged thievery by the two Deputy Chiefs Of Staff, allegations of $20,000 Gate fee at the Flagstaff House by Kennedy Agyapong and the revelation by Nana Obiri Boahen that President Akufo-Addo, through the Flagstaff House sponsored NPP's Annual Delegates Conference in Cape Coast with 50 Billion cedis of State funds"

The Deputy National Organizer further reiterated, that there are a lot more pressing issues that the government must concentrate on addressing than misplacing its priorities, since these renaming exercise, he said would not reduce fuel prices nor stop the cedi from further depreciating.


Source: Daniel Kaku