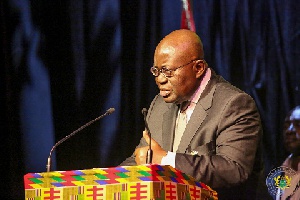 President Nana Addo Dankwa Akufo-Addo has stated that trial of state officials suspected to have been involved in corrupt activities is not politically motivated.
The president's comment comes after a former board chairman of the National Communication Authority (NCA) under the Mahama administration Eugene Baffoe-Bonnie and four others were arraigned in an Accra Commercial High Court last week for wilfully causing financial loss to the State.

The five have also been slapped with 16 other charges.

The five accused persons pleaded not guilty when their plea was taken after the Attorney General, Gloria Akuffo read the facts of the State.

Three of the accused persons present in court were granted bail by Justice Eric Kyei Baffour's court to the tune of 1 million dollars each with 3 sureties and are to surrender their passports to the court Registrar.
The accused persons are expected to reappear in court in Tuesday, January 9, 2018.

The government has also stated that several former officials of the erstwhile NDC administration have also been accused of causing financial loss and will be arraigned in the coming year.

In a twitter post Thursday, Mr. Akufo-Addo said the trials will be done to enforce the criminal laws of the country.