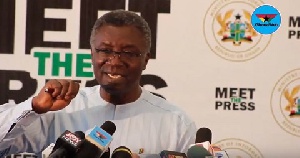 The Member of Parliament for Builsa South, Dr. Clement Apaak wants to know if there is the link between the Gold for Oil deal and Mr. Frimpong Boateng's allegation on Jubilee House involvement in illegal mining also known as galamsey.
This comes on the back of the Vice President Mahamadu Bawumia's claims that the government's Gold for Oil Policy is the cause of reduction of fuel prices at the pumps.

However, most analysts have refuted the claims by the Vice President.

The Executive Director for Chamber of Petroleum Consumers (COPEC), Duncan Amoah has called on the Vice President to substantiate his claims to Ghanaians.

According to him, the drop in fuel prices at the pumps cannot be attributed to the government's Gold for Oil policy.

Commenting on the development Mr. Apaak called on players in the oil industries to share with the Vice President what really contributes to reduction of fuel prices in the country.
"Share with Veep Bawumia. Thinking aloud folks, could there be a nexus between his creation, the opaque 'Gold for Oil' scheme and the active involvement of Government appointees, Jubilee House and NPP officials in galamsey as alleged by Prof. Boateng, Establishment Candidate hia sika!," the lawmaker stated in a tweet.

Meanwhile, the Executive Director for COPEC says the Vice President Bawumia should juxtapose 115,000 metric tons as against 350,000 tons to be consumed monthly.

"We are simply dealing with a million and fifty thousand metric tons. 100,000 metric tons out of a million metric tons will tell you that a larger chunk of what you and I have been consuming now is being gotten by the BDC's. Yet the one doing 10% says he has brought down petrol prices.

"I don't think that is so, Mr. President or Vice President, sorry to say, should come again because the data doesn't support this assertion."